Run for your lives! Godzilla is coming to John Marazzi Nissan Fort Myers and Naples, Florida. It emerged from across the Pacific with a colossal roar, more powerful and intimidating than anything else from the islands of Japan. Except this isn't some 30-story mega-lizard bound for battle against humungous moths, gigantic lobsters and the good citizens of Tokyo. No, this is the Nissan GT-R, a 473-horsepower sports car bound for battle against some serious performance machines that boast higher brand cachet and even higher price tags.
Although this is the first Nissan GT-R on our shores, many Americans are familiar with the legendary Skyline GT-R. This model was introduced in Japan beginning in the 1960s. Later generations became world renowned thanks to their twin-turbo engines, all-wheel drive and high potential for customization. It was never officially imported to America, though a handful trickled across the sea via importers.
As a successor, the new GT-R is truly one of the greatest cars ever produced. It's capable of world-beating performance while being remarkably easy and forgiving to drive, and costs less than half of what most similar-performing European sports cars command.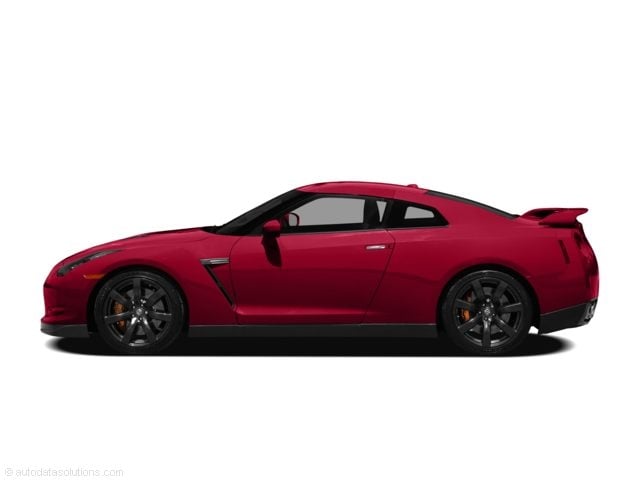 Introduced for 2009, the Nissan GT-R is a 2+2-seat high-performance sport coupe. A twin-turbocharged 3.8-liter V6 provides the thrust, sending 473 hp and 434 pound-feet of torque to all four wheels. The standard transmission is a six-speed automated manual gearbox that can shift gears in just 0.2 second after the driver fingers the steering-column paddle shifters. The GT-R goes from zero to 60 mph in 3.3 seconds, quicker than nearly every other performance car or exotic on sale today.
The GT-R's all-new PM ("Premium Midship") chassis is unique within Nissan's lineup. To achieve an optimal weight distribution, the transmission is mounted at the rear -- this is unusual for a front-engine design and unprecedented for one with all-wheel drive. What's more, to guard against inconsistencies from one GT-R to the next, the car's suspension and body are assembled on a jig, racecar-style.
The multilink suspension has electronically adjustable dampers that can be set to three different modes: Comfort, Normal/Sport and R-mode. The latter is really only suitable for track purposes, while Normal/Sport is ideal for charging along a country back road. Despite its name, though, don't expect the Comfort mode to provide a marshmallow ride for its occupants -- even in this mode, the ride quality is very stiff.
Still, as far as high-performance supercars are concerned, the Nissan GT-R is on the friendly side for everyday drivability and road trip comfort. Credit a reasonably spacious cabin and a features list that includes leather-trimmed seats and dashboard, keyless ignition/entry, Bluetooth and a 30GB hard drive for music file storage, navigation with live traffic updates, satellite radio and an in-depth vehicle system and performance display. That latter item was co-developed by Polyphony Digital, the same company responsible for the "Gran Turismo" video game series.
With such a fierce fan base already in place and a limited production number, the Nissan GT-R is bound to be a hot commodity for years to come.