The Nissan Cube is dressed up with an eclectic blend of curved styling cues, an asymmetrical rear window and ovoid front-side windows. John Marazzi Nissan in Naples and Fort Myers, Florida offers several different trim levels with a manual transmission or a continuously variable transmission (CVT), the four-door Cube offers a smooth four-cylinder engine and an airy cabin with ample headroom and legroom. Disappointingly, though, the Cube's real-world cargo-carrying ability is less impressive than the diminutive Honda Fit's. This foible plus the Cube's overly soft handling relegate it to also-ran status among compact wagons.
The Nissan Cube is a compact four-door hatchback wagon offered in several trim levels. The two available transmissions are a six-speed manual and a CVT. Base Cubes come standard with head curtain airbags, air-conditioning, power accessories, a 60/40-split sliding rear seat and a CD player. Higher trims offer frills like cruise control, upgraded audio, alloys, automatic climate control and iPod/MP3 capability. Customizing Cubers can head straight for the Krom model with its unique body pieces, polished wheels, two-tone interior and premium Rockford Fosgate audio. If that's a bit much pricewise, the Ginormous Package for the more affordable SL model features styling mods inside and out, and all Cubes can be outfitted with a mind-numbing multitude of dealer-installed Nissan accessories.
Along with its attention-grabbing exterior design and park-anywhere footprint, the Nissan Cube boasts a tall, spacious cabin. Headroom and legroom are plentiful for all occupants.

"Nissan's Cube offers a surprising amount of space and practicality in a small and highly styled packaged. People shopping small sport utility vehicles, and outgoing folk looking for something beyond the ordinary subcompact universe should give Nissan's personality infused little box a look." -- Consumer Guide

Nissan Cube Named 2010 TOP SAFETY PICK BY IIHS
The Nissan cube® has earned a 2010 Top Safety Pick award from the Insurance Institute of Highway Safety. The Top Safety Pick award recognizes vehicles that provide superior overall crash protection among vehicles in their class and only includes vehicles with available electronic stability control. The cube comes standard with Nissan's electronic stability control system, Vehicle Dynamic Control (VDC)
The IIHS has expanded the criteria to earn a Top Safety Pick with the 2010 version of the award. In addition to earning a "GOOD" rating in each of the front, side, and rear impact tests performed by the IIHS, a vehicle must also earn a "GOOD" rating in their new roof crush evaluation.
About the safety features of the Nissan cube:
Cube's long list of standard safety features includes the Nissan Advanced Air Bag System (AABS), seat-mounted driver and front-passenger side-impact supplemental air bags, and roof-mounted curtain side-impact supplemental air bags for front and rear-seat outboard occupant head protection.
Cube also offers standard front-seat Active Head Restraints, Tire Pressure Monitoring System (TPMS) and Vehicle Dynamic Control (VDC) with Traction Control System (TCS), along with an Anti-lock Braking System (ABS), Electronic Brake force Distribution (EBD) and Brake Assist (BA).
About IIHS
IIHS is a non-profit research institution funded by over 60 automobile insurance companies. The Institute performs hundreds of tests every year in order to comparatively rate the safety and repair cost of the U.S. vehicle fleet. For more information, please visit www.iihs.org.
A full release from IIHS is attached.
Statement:
Nissan is pleased that its ongoing commitment to product safety is reflected in the Insurance Institute for Highway Safety's 2010 Top Safety Pick honors given to the Nissan cube.
We design all of our products to provide a high level of occupant safety in a wide range of real-world crashes. The cube offers a full complement of standard safety features, including vehicle dynamic control with a traction control system, multiple standard air bags, featuring the Nissan Advanced Air Bag System (AABS) with dual stage supplemental front air bags with seat belt sensors and an occupant classification sensor, roof-mounted curtain supplemental side-impact air bags for front-and rear-seat occupant head protection, along with a standard Tire Pressure Monitor System (TPMS) and driver/passenger seat belt warning lamps. Also standard are front seat belts with pretensioners and load limiters, LATCH (Lower Anchors and Tethers for CHildren) child seat anchors and tether system, front seats with active head restraints and Zone Body Construction with front and rear crumple zones to help dissipate crash energy away from the passenger compartment.
The 2010 Nissan Cube is turning heads in

Naples at John Marazzi Nissan.

Built on Nissan's B-platform chassis (used in the Versa and Sentra), the Cube is powered by a 1.8-liter, 122-horsepower four cylinder; offers a choice of automatic or six-speed manual transmission; and is nicely equipped for $13,990, including stability control.
The science of aerodynamics tells us that air is a fluid with its own viscosity and inertia. When an object such as an automobile moves through it, the object is enveloped in a thin layer known as a laminar flow. Where the laminar airflow shears away from the surface it quickly degrades into a chaos of disordered air, or turbulence, which results in energy-sapping drag. The longer and smoother a surface -- the more it approximates a perfect teardrop shape -- the more aerodynamically efficient an object will be.

Designing a car involves hundreds of hours of wind-tunnel analysis as engineers, making sometimes extraordinarily fine sub-millimeter adjustments, chase down excess drag, wind noise and lift. The process is tedious but there is a certain beauty to it, as the car's exterior is gradually brought into harmony with the reifying, God-given properties of nature.
And then there's the air-hating box of ugly, the 2009 Nissan Cube.

The Cube is to aerodynamics what a collapsing bridge is to Olympic diving, what slipping on an icy sidewalk is to "Swan Lake," what poached dirt on toast is to a gourmet breakfast. It's a travesty, a mockery, a baleful parody of auto aerodynamics. Nissan Motor Co. says the design was inspired by a "bulldog in sunglasses." My question: Which end is wearing the sunglasses"

Of course, it's not supposed to be beautiful, if by "beautiful" you mean sleek, lean, porpoise-like. That's a very old school, geezerly car aesthetic that simply doesn't resonate with a lot of young people. For echo boomers and millennials born from 1980 to 1990, beautiful is counterintuitively clumsy, affectedly unsleek, modular and angular, as in Wii consoles, iPhones and the large, squarish heads of the Jonas Brothers. It's no accident that Nissan has tagged the Cube its "mobile device."
To bring you up to speed a bit: The Cube is a huge hit for Nissan in Japan, and now -- given a projected upswing in the small crossover segment in the U.S. -- the company has homologated it for the North American market. Built on Nissan's B-platform chassis (used in the Versa and Sentra), the Cube is powered by a 1.8-liter, 122-horsepower four cylinder; offers a choice of automatic or six-speed manual transmission; and is nicely equipped for $13,990, including stability control.

Why is stability control important" Because the Cube is aimed at relatively inexperienced drivers, those 18 to 25 years old. I would never let my new driver on the road without stability control. Seriously.

What's fascinating to me is the psychographic opportunity Nissan thinks it has identified. The reasoning is that many of the intended buyers -- or drivers -- will still be living at home with one or both parents. Nissan proposes the Cube as their home away from home, their own lounge-like space to hang out with friends, decorate as they please and generally establish a base camp on the road to adulthood.

Though I am several decades beyond the target audience, I get it. The Cube's interior -- the faraway windshield, the nearly vertical windshield pillars, the open seating, the airy cabin and towering headroom -- is more studio loft than economy car. For a car only 156.7 inches in length, over a wheelbase of 99.6 inches, the Cube is Alice's looking glass of unexpected vastness. There are trays and flat surfaces carved into the doors and dash, places to throw stuff. There's a kind of flower-box divot built over the dash and bungee straps built into the doors to hold things such as pens, iPods, sandals . . . what-everrr.

You might think all the headroom would go to waste -- I could wear a large raccoon on my head while driving, no problem. What I found is that with the open space, people in the back can comfortably carry on a conversation with the people in the front without feeling like they are breathing down their necks. So the car is uniquely social, which is how the kids like their media too.

Cargo space with the rear seat down is a very utilitarian 56 cubic feet. Meanwhile, the smoked-out rear passenger and back windows provide a serious amount of privacy. Uh-oh.

To be sure, the Cube has some conspicuous design grace notes. You will appreciate the rock-in-a-pond ripple motif in the cup holders, speakers and most notably the headliner. Also notable is the side-hinged rear hatch and the asymmetric wraparound rear window. All very cool.

The previous champion of boxiness, the Scion xB, demonstrated that -- as youth-oriented and Japan-chic as these square vehicles are -- older consumers liked them too. Nissan expects the demand for the Cube to be bimodal, which is to say, consisting primarily of customers in the 20- to 29-year-old range and their parents, 45 to 59 years old. If Dad is making the payments, is Junior going to deny him the keys"

How does the Cube drive" It's OK. It doesn't invite reckless abandon, that's for sure, but you wouldn't want it to. The model I drove, an SL with the continuously variable transmission (automatic), was competently quick and effortless to drive, with good, solid brakes, comfortable ride and very tight turning radius, making it super easy to park. But again, evaluating a car like this on its performance is like judging Bar Refaeli on her knowledge of trade policy.

With a little more money, kids can step up to the Krom package (pronounced "chrome"), with 16-inch alloy wheels, a thumping six-speaker stereo with iPod interface, tastier upholstery and interior lighting. At less than $20,000, the Cube Krom seems like a genuinely decent value.


John Marazzi Nissan has Southwest Florida's largest inventory of the 2010
Nissan Cube
. Since we been given volume dealer status John Marazzi Nissan is your
Nissan Cube
destination. Call us today to reserve yours!
Nissan Motor Co., Ltd. today revealed the all-new, third generation of its highly successful
Nissan Cube
in launch events in Japan , the United States and Europe . The fully redesigned
Cube
continues the iconic "cubic" styling of the previous generation, adding a higher level of refinement and polish inside and out. Sales of the new
Cube
begin in Japan on Nov. 26, followed by North American in the spring of 2009, and Europe and other global markets in fall 2009. Originally launched in 1998, the
Cube
has sold nearly one million units to date in Japan . The latest version maintains the distinctive exterior styling that is instantly recognizable as the
Cube
, such as the asymmetric rear end, while pursuing a simpler, more universal design for its debut on the world stage. It offers greater comfort, a larger cabin and a host of innovative interior details such as sofa-like seating, a large glass roof panel that extends over the driver's seat for an open, airy view of the outside environment, and a shoji-style roof shade that fills the cabin with gentle light. Despite its increased roominess, the new
Cube
remains less than four meters long, providing big utility within a small physical footprint. With its excellent visibility and maneuverability, along with smooth performance and high fuel efficiency, the new
Cube
is a high-performance daily driver created to be enjoyed by value-conscious buyers worldwide.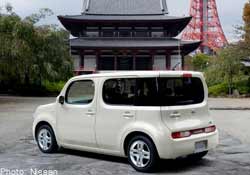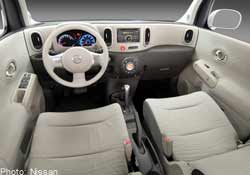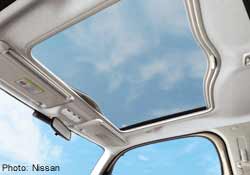 "The new
Cube
is designed for people who imagine a life less ordinary, who have grown tired of the never-ending pursuit of faster, more powerful, more outrageously styled cars," said Yosuke Iwasa, Segment Chief Product Specialist. "The quieter, more harmonious qualities of the
Cube
have attracted interest not only among young people, but for those in every walk of life. While carrying forward the concept of the original
Cube
, this latest edition has advanced significantly, including offering far greater comfort."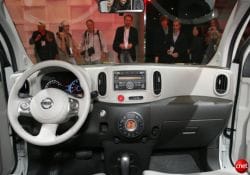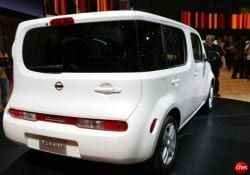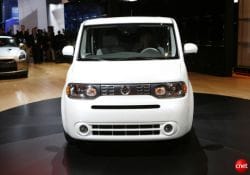 "The new Cube is a refined car of universal quality and appeal, that can compete without "makeup" or excessive decoration," said Seiji Watanabe, Associate Product Chief Designer. "The development concept took the approach of "purifying" the
Cube
design, rather than "evolving" it. A jagged rock, for instance, loses its edges and takes on a polish as it travels down a river. This is the sort of refinement we wanted for the new
Cube
. We worked to simplify its exterior, using fewer lines and widening certain areas. We allowed the
Cube
design to refine itself, moving closer to nature and suggesting human warmth. The resulting "purer, more peaceful' design is just what we wanted. It is a vehicle for people who are not being influenced by others, who go their own way, and enjoy interactions with friends in a welcoming atmosphere."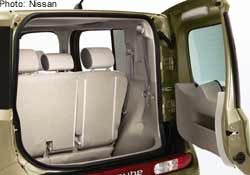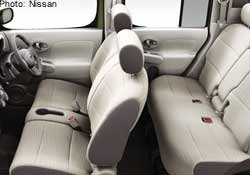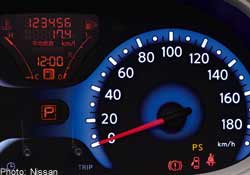 Following are the details of the
Cube
. The features and specifications listed are for the Japanese version and may vary for other global markets.
EXTERIOR DESIGN
Unique wraparound rear window and photo frame side windows

Bulldog in sunglasses

- look front grille and headlamps

Refrigerator

-style rear door
Rear Privacy Glass
Standard 15' wheels
Available 16' wheels
PERFORMANCE & SAFETY
122hp 1.8-liter 16-valve 4-cylinder engine
127 ft-lb. of torque
Standard 6-speed manual transmission
Available Xtronic® CVT
Vehicle-speed-sensitive power steering
ABS, Electronic Brake-force Distribution, and Brake Assist
6 standard airbags
Standard VDC w/TCS rare at Cube's price point
INTERIOR
Jacuzzi-curved interior shape with

water drop

interior accents on headliner, cup holders, and speaker grilles
Earth and moon-inspired fine vision gauges
Sofa-comfort seating, with rear seats that slide and recline
Standard Power door locks and windows
Standard Trip computer
Standard 60/40 split-fold rear seat that slides and reclines
Available upgraded suede-like seat cloth
Available Intelligent Key" Keyless Entry and Ignition System
Available Bluetooth® Hands-Free Phone System
Available push button start
Available 150-watt Rockford Fosgate subwoofer with six upgraded speakers.
Available Interface System for iPod®
VPC ACCESSORIES
Unique Aero Kit
Painted Unique 16' Alloy Wheels in Gunmetal or Silver
Interior Illumination Package with 20 color Interior Accent Lighting and illuminated stainless kick plates
Interior Designer Package including:


Shag Dash Topper
Front Door Bungees
Carpeted Floor Mats
Carpeted Cargo Mat

Ginormous Package including:

Unique Aero Kit
Interior Accent Lighting (20 colors)
Illuminated Stainless Kick Plate
Custom Grille
Unique Hood Molding Accent
Chrome Front Fascia Accent
Cargo Area Protector
Interior Trim Appliqués (5 colors)

Additional VPC and PDC accys available
Nissan Cube Key Features:
Iconic Cube styling

recognizable at a glance

Spacious Cube interior

designed for comfort and relaxation

Innovative Cube packaging

for easy, relaxed driving
1. Design
Exterior
A "witty" design with a wide stance that communicates stability and agility
An expressive personality that wins over consumers" hearts
Windows designed for an expansive view, especially at the rear corners
An asymmetric rear hatch, continuing the Cube's unique character
"Picture windows" that charmingly frame the passengers
An extensive lineup of 10 available body colors, including Craft Board, a Nissan first, and two other new colors

Interior
A relaxing space that brings people together
An open cabin, conceived with the image of a Jacuzzi
A curve-shaped instrument panel
High-precision "Fine Vision" instrumentation
A "skylight"-style glass panel roof that keeps the sky always visible from the driver's seat, and a shoji-style shade to diffuse sunlight, when desired, and fill the cabin with gentle light
Comfortable, secure seating with thick seat cushions and matching door armrests for a sofa-like effect
A "water drop" ripple design motif in cupholders and other cabin details
2. Packaging
Ample space throughout the cabin, including rear seat headroom and knee room
The front seat slides 12 millimeters farther (than the previous generation) and lifts up to 60mm, allowing optimum posture for people of any size
Excellent all-around visibility, with the entire engine hood visible from the driver"s seat
Large side and rear quarter windows that help reduce both side and rear blind spots
The tightest turning radius in its class at 4.6 meters (except the 15G)
Large front door openings, which allow more headroom (than the previous generation) and easy entry and exit
Theater-style rear seating that broadens the view from the rear seats and a more rearward rear-seat hip point, which significantly increases knee room
3. Utility A large cabin space for comfort and relaxation
In addition to the cushiness of the seat pads, S-springs give the seats a greater depth and a sofa-like feel
Side-opening rear hatch, which allows easy one-hand operation
The rear seats slide 20mm farther forward, providing greater luggage area flexibility (than the previous generation)
Fashionable and functional storage spaces, including cupholders with the "water drop" ripple motif
A CARWINGS navigation system that features a high-resolution monitor and hard disk drive, as well as a built-in tuner that receives 12- or 1-segment broadcasting with automatic switching, and a state-of-the-art map-updating system
Nissan's first AM/FM/CD combo with a RearView Monitor
Push button starter
A Nissan Intelligent Key system, which provides enhanced theft-prevention with an electronic steering lock and engine immobilizer linked to the key ID
4. Mechanism
A body designed for safety and high performance
The platform design minimizes mechanical space, including for the engine, transmission and suspension, and creates a roomy cabin and easy handling in an attractive, compact package
A wide stance, resulting from moving the wheels to the corners; allows for sharp cornering and a turning radius of just 4.6 meters
A more rigid body (than the previous generation), which allows for more stable operation and a comfortable ride
A strut front suspension and torsion I-beam rear suspension with improved camber rigidity, driving comfort and stability
Smooth and responsive
The new Cube employs an all-aluminum front-intake, rear-exhaust 1.5-liter HR15DE engine, known for low fuel consumption, compactness, low weight and impressive performance
All Cubes equipped with the e-4WD system feature a standard XTRONIC CVT with Adaptive Shift Control (ASC) for smoother performance
The new Cube's major improvements in fuel efficiency and aerodynamics increase comfort and help conserve energy
Better aerodynamics increase fuel-efficiency by two percent in the high-speed range (compared with the previous Cube)
In 2WD models, the CVT oil warmer helps improve fuel-efficiency when the engine is cold (immediately after engine start or when ambient temperatures are low)
Other technologies for safety and environmental protection
An auto-light system, which is more sensitive than conventional systems, turns the Cube's lights on automatically when it detects dimming light around the car (such as at twilight or when the windshield wipers turn on)
The first Vehicle Dynamic Control (VDC) option for a Nissan compact (2WD models only)
Optimum lighting with multi-reflector halogen headlights
Available bi-xenon headlights (with high and low-beam auto-leveler)
RearView Monitor
Rear adjustable-cycle wiper
Center High Mount Stop Lamp (CHMSL)
Anti-lock Braking System (ABS)
Brake Assist (BA)
Electronic Brake force Distribution (EBD)
Highly rigid Zone Body Construction
Body designed to minimize pedestrian injuries
SRS air bag system for front seats
SRS curtain air bag system
Front-seat Active Head Restraints
Driver's-seat double-pre-tensioned seat belt
Pre-tensioned seat belts with two-stage load-limiters for front seats
Rear seat headrests (three positions)
Low-friction seat belts for all seats
Three-point seat belts with Emergency Locking Retractors (ELRs) for rear seats (self-rising buckles for three seats)
All 2WD and "15X Four" e-4WD versions of the new Cube achieve the 2010 standard for fuel-efficiency plus 20 percent
All Cube versions are certified as super-low-emission vehicles (SU-LEVs), achieving emission-cutting goals for 2005 plus 75 percent
Over 95 percent recyclable*
Reduced volatile organic compound usage in the cabin
Fuel-consumption display (instant fuel consumption, average fuel consumption and likely cruising range)